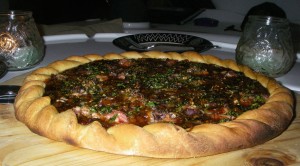 I haven't been cooking in my kitchen this week but making due and will return to my kitchen or as we say aboard our boat the "galley" in the next week or two. On another topic I got a brand new Cannon DSLR camera which I have no clue how to use, the photo to the left was taken with my old point n shoot.
Now that Makana is just about ready for launch I left St. Augustine on Sat. and flew up to reunite with the crew in New Jersey (flying is just not as "fun" as it used to be). They've been staying there with family the past few weeks, Hoku broke her arm on Oct. 11th and had surgery, quite the ordeal. The surgeon inserted steel rods into her ulna and radius bones in her left arm, she's been going to physical therapy several times each week and is healing well. She's back in the kitchen and baked these Monkey Knuckles single handed, literally.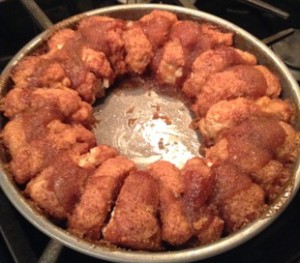 FYI stay off trampolines!
Yesterday afternoon after my daily bike ride Hoku and I went grocery shopping in search of something fun for dinner. We both enjoy exploring new grocery stores, Hoku likes the Hannaford chain in Maine (possibly due to the free cookies). My two favorites are Harris Teeter and Market Basket (I also like Whole Foods but they seem to require a whole paycheck). Harris Tweeter's are found in North and South Carolina and are a store all foodies should experience. Ditto for the Market Basket's in Mass., New Hampshire and Maine. Here in coastal New Jersey we've found a Shop Rite which fits the bill. I typically start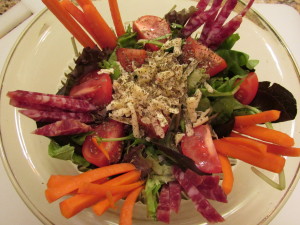 my shopping forays in the produce section as good fresh produce usually directs my cooking, and the first item there which drew our attention was the fresh Cilantro. Cilantro is an amazing herb and I use it in a vast array of dishes from Asian to Mexican. So we had our start to something, we just weren't sure what it would be, then as we continued our quest we noticed a store worker unloading Red Onions. They looked awesome so it was an easy choice as what to make for dinner. One of our favorite recipes is the BBQ Chicken, Red Onion and Cilantro Pizza. We also scored some fresh lettuce, tomatoes, carrots and hard Italian Salami. And while walking past the seafood counter picked-up some of the large locally harvested Cherrystone Clams, for only $4 per dozen, sweeeeet!
This pizza is very easy to prepare, especially if you cheat with a store bought bottle of BBQ sauce and a Boboli Pizza Crust
(but your not going to cheat, food is just too important for shortcuts). It's also one which I had published several years ago in Cruising World magazine. I typically prepare, cook and serve my pizzas on a 16-Inch Round Oven Pizza Stone
however the two I currently own are in our Maine camp with the other on our boat in Florida so Cookie Pans
were used.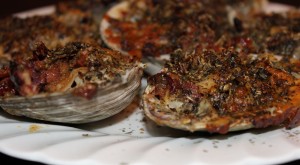 To accompany the pizza we made a garden salad along with the Cherrystone Clams for an appetizer (here is a link to a great recipe, just substitute clams for mussels). A perfect meal for a perfect fall day!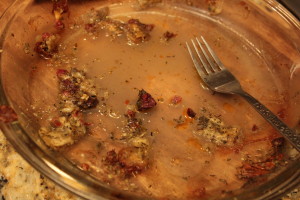 One of my favorite things about cooking is when I get to "clean the baking dish"  delicious!
 
BBQ Chicken, Red Onion and Cilantro Pizza
Easy to make Pizza
Ingredients
Dough
4 cups flour
1 teaspoon salt
2 teaspoons active dry yeast
1 tablespoon sugar or honey
2 tablespoons olive oil
1¾ cups warm water
Olive oil
Sauce
1 cup ketchup
1 clove garlic, chopped
2 tablespoons molasses
Salt and pepper, to taste
Red pepper, to taste
1 teaspoon each basil, oregano, parsley
¼ teaspoon curry powder
¼ teaspoon dried mustard
1 tablespoon vinegar
Topping
1 pound provolone cheese, grated
1 cup red onion, sliced
1 cup cilantro, chopped
1 to 1½ pounds chicken, diced
Instructions
Proof yeast with warm water and sugar. Mix dry ingredients in a large bowl. Add liquids and yeast, knead thoroughly, adding more water or flour until dough is firm. Leave dough in covered bowl for 30 minutes in a warm location. Roll dough out onto cornmeal-coated pizza stone or a glass or metal cookie sheet coated with olive oil. Let rise an additional 30 minutes.
Mix together sauce ingredients and simmer for 5-10 min then spread over crust, then cover with cheese. Top with chicken then onion and cilantro. (If using a pre-made crust, precook the chicken and reduce baking time to 20 minutes.) Bake at 350 F to 375 F for 30-45 minutes or until chicken is done. Remove from oven and let cool for 10 minutes before serving.
Nutrition Information
Calories:
5276
Fat:
197g
Saturated fat:
94g
Unsaturated fat:
89g
Carbohydrates:
525g
Sugar:
107g
Sodium:
9713mg
Fiber:
22g
Protein:
343g
Cholesterol:
818mg