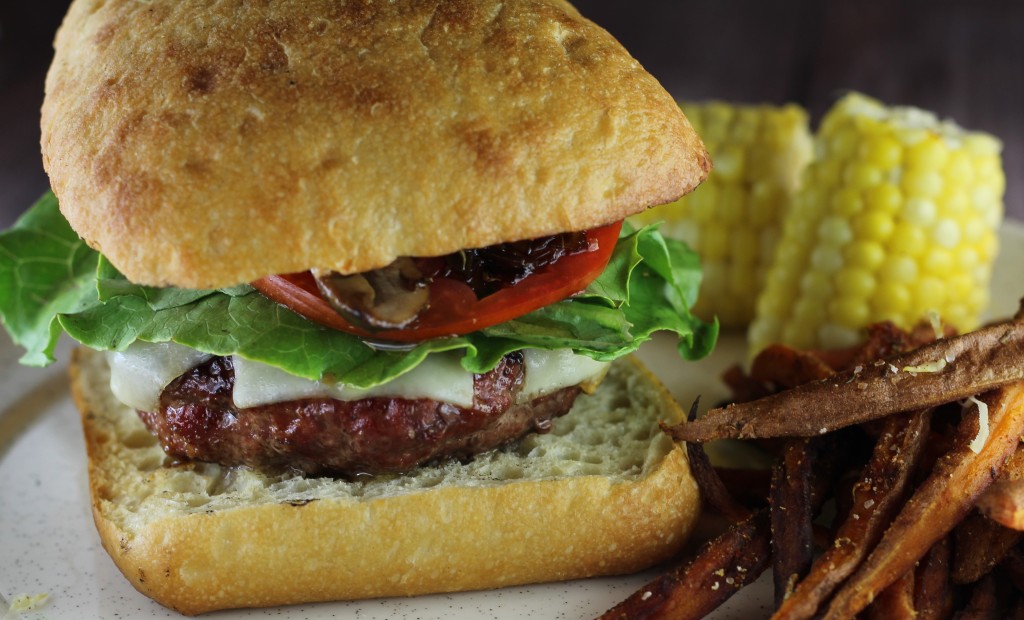 World's best Blue Cheese stuffed Burgers! This is by far the best combination of ingredients for a burger; stuff burger with Blue-cheese, top with lettuce, tomatoes, caramelized onions &  Portobello mushrooms, Jarlsberg cheese and Bacon Aioli. This recipe was inspired by the "Artery Buster" burger which I've had on numerous occasions at Peggy Sue's restaurant in Kihei, Maui.  The Bacon Aioli takes the burger over the top especially when I use Duke's Mayonnaise
. This is another recipe that is not quick, not very easy, but also not difficult, don't forget to add the twice fried sweet potato fries, enjoy!Yum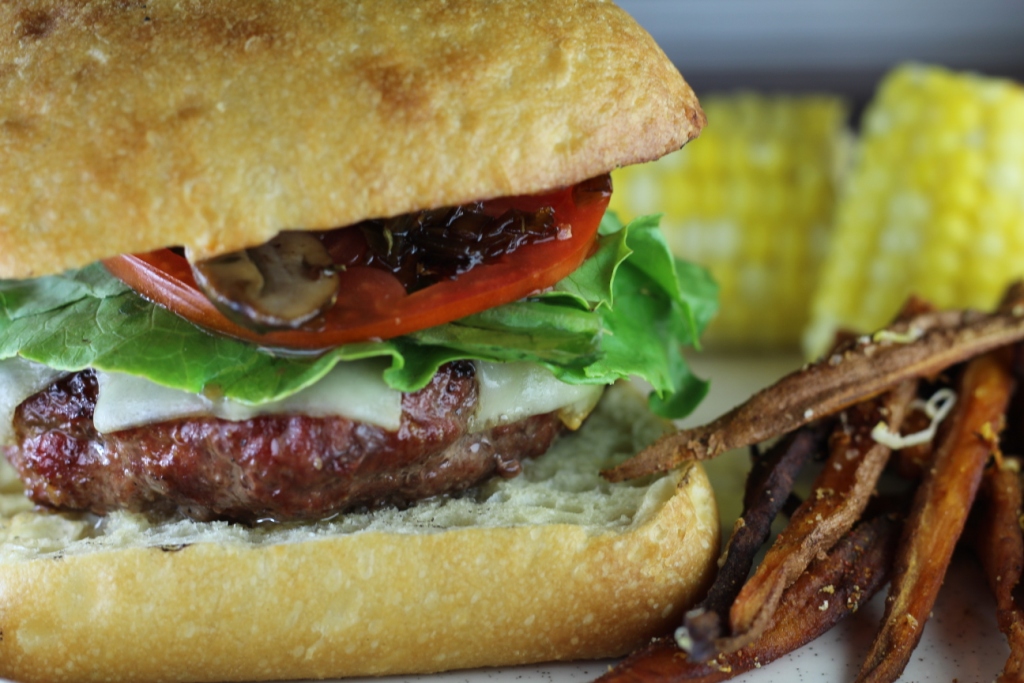 Blue Cheese stuffed Burgers
Prep time:
Cook time:
Total time:
Blue Cheese stuffed burger topped with sautéed Portobello mushrooms, caramelized onions, Jarlsberg cheese and Bacon Aioli
Ingredients
2 lbs. ground beef (I prefer to use 80 - 20%)
1 cup crumbled Blue Cheese
½ lbs bacon
8 oz sliced baby Portobello mushrooms
½ white or yellow onion, chopped
½ cup mayonnaise (Duke's is best)
1 tsp lemon juice
2 cloves garlic finely chopped
½ lbs Jarlsberg cheese
1 Tbs olive oil
1 Tbs butter
1 tsp sugar
2 Tbs white wine
½ tsp thyme
6 buns for burgers along with lettuce and tomatoes
salt & pepper
3 -4 sweet potatoes for fries
Instructions
Using the ground beef make 12 thin large burgers. Place 2 -3 Tbs of the blue cheese onto the middle of six patties then top each with another patty and form into well shaped burgers, coat outside of burgers with canola oil and place in freezer while making the toppings.
Cook bacon in frying pan until done and remove, discard most of the fat, using same pan saute 1 clove of garlic, onions and mushrooms in butter and oil, add thyme, sugar, wine, salt and pepper cook until caramelized. In a small bowl mix mayo, lemon and garlic then add chopped bacon, mix well.
Cook burgers on a well oiled grill until done (approx. 5 to 7 min on each side) Tope with Jarlsberg cheese, toast buns and assemble burgers, topping with lettuce, tomatoes, mushrooms & onions, spread bacon Aioli on bun and serve with twice fried sweet potato fries.
Save
Save