With summer quickly approaching now is the time to get your grill in gear. And what better way is there than to grill some fresh Mahi Mahi or your favorite fish on a Cedar plank. The wood not only imparts a wonderful smoky flavor to the fish it looks cool as well. We had a great year fishing this past winter in the Bahamas in addition to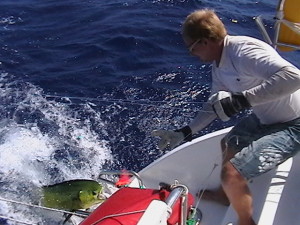 Mahi we still have Wahoo, Grouper, Hog Fish and Conch in our freezer. So get the cover off your grill, fill the LPG tank, grab some fish and begin enjoying the summer season!
Several years ago instead of running charters out of Camden Maine we left Makana in Florida for the summer. However that summer I was still able to spend the major part of the season out on the water in Maine, it just wasn't on my boat. I ended up cooking on another boat, this worked out great as I was able to combine two of my favorite passions; sailing and cooking. I wrote the article below at the end of that summer and just recently discovered it in all my "junk", enjoy.
The Schooner Mary Day
I'll let the numbers speak for themselves; 216 eggs, 50 pounds of flour, 15 pounds of sugar, 14 pounds of butter, 22 pounds of onions, 25 ears of corn, 35 pounds of potatoes, 75 pounds of fresh Maine lobster and a ½ cord of wood have in common? Plenty, when also included with 20 pounds each of apples and oranges, 15 pounds of bananas, 10 pounds of strawberries and 4 pounds of the finest blueberries Maine produces. These were just a portion of the "ship's stores" taken aboard the schooner Mary Day each week prior to dropping her lines and casting away from the dock in Camden harbor to spend the week plying the waters of Penobscot Bay. Keeping 29 passengers and a crew of 6 well fed required more than just oranges to fend off scurvy. Maine's windjammer fleet has a long standing reputation of serving up some of the finest culinary delights found in Maine, all prepared on wood burning stoves!
I had spent most of the summer at our family's camp on Drury Pond near Farmington. Fishing, swimming, hiking and biking were my primary duties while at camp. So towards the end of July when captain Barry a fellow Mainer who happens to also be the owner of the Mary Day needed a cook I felt compelled to help, that's just the way it is here in Maine.
Captain Barry runs a "tight" ship and has the reputation of being one of the finest schooner captains in Maine. Mary Day captured a first place finish earlier that summer in the annual Great Schooner Race. And as opposed to most windjammers sporting a predominantly male crew and female cook the opposite was true for the Mary Day.
The Mary Day and most all of the windjammers serve wholesome homemade meals reminiscent to those of the period. Freshly baked breads, pies and cakes are accompanied with each meal with the aromas emitted from the wood stove wafting topside enticing the guests. The ships bell was rung followed by the crew hooting and a hollering signaling that a meal was served. These were served family style for breakfast and dinner while a  buffet for lunch was often the call so guests could enjoy their meal topside with granite islands, eagles and spruce trees as the backdrop.
Cooking on "Diamond" the wood burning stove aboard the Mary Day was a challenge. While Diamond worked flawlessly from 4:30 am each morning until serving up the last pot of decaf coffee well past 8pm, she did require being well fed with wood every 10-15 minutes. And there was a sharp learning curve during my first few days as to Diamonds idiosyncrasies. Diamond kept me on my toes as she was similar to babysitting a young child, I was able to sneak away for a few brief moments but at no point could I trust her with a cake while I curled up with a book in my bunk waiting for the cooking alarm to signal me that the cake was done. And I must openly admit that even after a month of working with Diamond every once and a while she'd get the best of me resulting in me either "hiding the evidence" from the captain or conducting pie or cake surgery. And I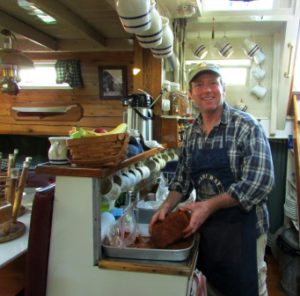 had to be flexible regarding the end result of my culinary creations. The applesauce cake would often be topped with a cream cheese frosting in place of powdered sugar to better hide cake surgery. And on several occasions a chocolate cake ended up morphing into brownies by the time it was served. When guests would inquire as to what I would be serving I'd always respond with a verbal wavier; "well I'm cooking baked ziti, however what will actually be served may resemble something entirely different".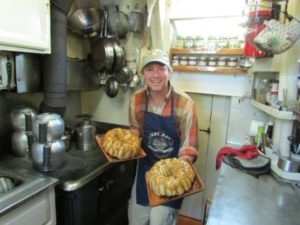 Baking a pie or cake aboard the Mary Day took on a whole new dimension. In addition to the challenges of using a wood burning stove was the fact that most of the time we were under sail. This in itself was fine if we were on one tack resulting in the schooner leaning over to one side for an extended period of time, for example the time we sailed from Swan's Island out 16+ miles out to Mt. Dessert Rock. However, Capt. Barry likes to sail so when tacking up Blue Hill Bay or the Eggomogin Reach we would change tacks 4 to 5 times each hour. This "sea sawing" would result in me having to tack the contents in the oven every time the schooner changed tacks. This was necessary to get a pie or cake to bake level as the baking pans required wedges under them otherwise the baked goods would end up with one side of the cake being much thicker than the other. The deck crew would even shout down "coming about" prior to changing tacks so I would be prepared to tack the ovens contents. And it wasn't just the oven If I had soup's or stew's on the stove top they would also require tacking so they didn't end up on the galley floor.
This recipe is featured on my Yummly recipe page along with many other great cooking ideas. If you've never visited Yummly you are in for a treat, there are great recipes and photos there, check it out here Yummly!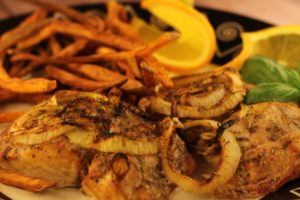 Cedar Grilled Mahi Mahi
Prep time:
Cook time:
Total time:
Easy to make Cedar Grilled Mahi Mahi
Ingredients
2 - 3 lbs Mahi Mahi or your favorite fish
½ white onion sliced thin
2 Tbs olive oil
2 cloves garlic chopped
½ lemon
salt and pepper
cedar plank for grilling
Instructions
Soak cedar in water for several hours before grilling. Rub olive oil over fish then place the fish on cedar plank. Spread sliced onions over top of fish then squeeze lemon over fish season with chopped garlic, salt and pepper. Cook on covered grill until fish is done (edge of filet will break apart when touched).
Yum