It's been an unusual winter in terms of the weather here in the Bahamas. The past few days a low pressure system to our north has brought in winds from a more northerly direction. This has resulted in a slight plunging of the temperatures with the water currently being warmer than the air. While these temperatures make for perfect "sleeping weather" it also an excuse to fire up the oven. Which is exactly what we did last night, Hoku made her favorite recipe green bean casserole and I made chicken wings.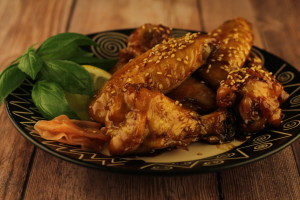 Chicken wings are one of my favorite things to cook with the variety of recipes seeming endless. My wing recipes vary from the "standard" Anchor Bar Buffalo style to Asian Kalbi Wings I learned how to make while living on Maui. Kalbi is Korean for BBQ ribs which are beef ribs that are about ½ inch thick cut across the bone and marinated for 12 – 24 hours in soy sauce, sugar, ginger, sesame oil and spices. My introduction to Kalbi ribs were at Azeka's grocery store in Kihei, Maui during my first trip there in 1988. On a busy day they would often sell 2000 lbs. of ribs with 95% of those sold raw for home cooking. These ribs were exceptional and I enjoyed them right up until we moved away from Maui in 2005. Unfortunately after 60+ years Azeka's closed in 2006. Over the years I've spent a great deal of time trying to duplicate Azeka's marinade recipe. While I use the marinade on ribs I also use it as a chicken wing glaze creating what I call Kalbi Wings. This recipe is easy to prepare and the marinade can be refrigerated for future use.
I've experimented with marinating chicken wings for 24 hours similar to the ribs, however, I've found that the salt in the soy sauce dries out the chicken meat. To overcome this problem my solution is to caramelize the marinade creating a thickened sauce which I coat the wings with after they've been cooked. The caramelizing process involves taking a sugar, in this case sucrose, to a temperature where it begins to polymerize and chemically change into fructose and glucose. The proper temperature is critical: too low and it won't thicken, too high and you end up with at best a peanut brittle type consistency. When I first started experimenting with this recipe I used a candy thermometer to monitor the temperature, now I can tell by the sauce's consistency and bubbling action.
I bake the wings in the oven prior to starting the sauce. Then I try to time it so the sauce and wings are done cooking at the same time. The sauce is relatively easy to make, the key is in the mixing and heating. When the sauce is first being heated you can get away with stirring ever 30 – 45 seconds. It's important to heat gradually and when the temperature gets close to the caramelizing point you will need to constantly stir the sauce. Once you reach the caramelizing point the sauce can be turned off as it will remain hot for a while and is best to let slightly cool prior to coating the wings (use caution as the sauce will give you a nasty burn). Once the wings are done mix them in a bowl with the sauce and serve. Oh, by the way, the exact temperature is 320F, enjoy.

Kalbi Chicken Wings
Prep time:
Cook time:
Total time:
Easy to make Kalbi Chicken Wings
Ingredients
12 – 14 Chicken wings
1 Cup Soy Sauce, (Kikkoman's is the best that's what they use in Hawaii)
⅔ Cup sugar
¼ Cups Brown Sugar light or dark
1 Tbs Molasses
1 Tbs Red Cider Vinegar
1 Tbs White Vinegar
1 Tbs Roasted sesame seeds
1 Tbs Sesame Oil
1 tsp Basil
1 Tbs Fresh Ginger Root or ¼ tsp dried
2 Cloves Fresh Garlic
Instructions
In a sauce pan add sesame oil and garlic, heat, then add soy sauce, vinegar's, sugars and spices (don't use a frying pan and the sauce pan should be high enough to accommodate 3 times the level of the initial sauce). SLOWLY heat the mixture while stirring and monitoring the temperature. As you approach the caramelizing point the mixture will begin to bubble and foam up. Use caution to prevent the mixture from boiling over. Once the temperature is reached immediately turn off the heat and let it cool before coating wings.