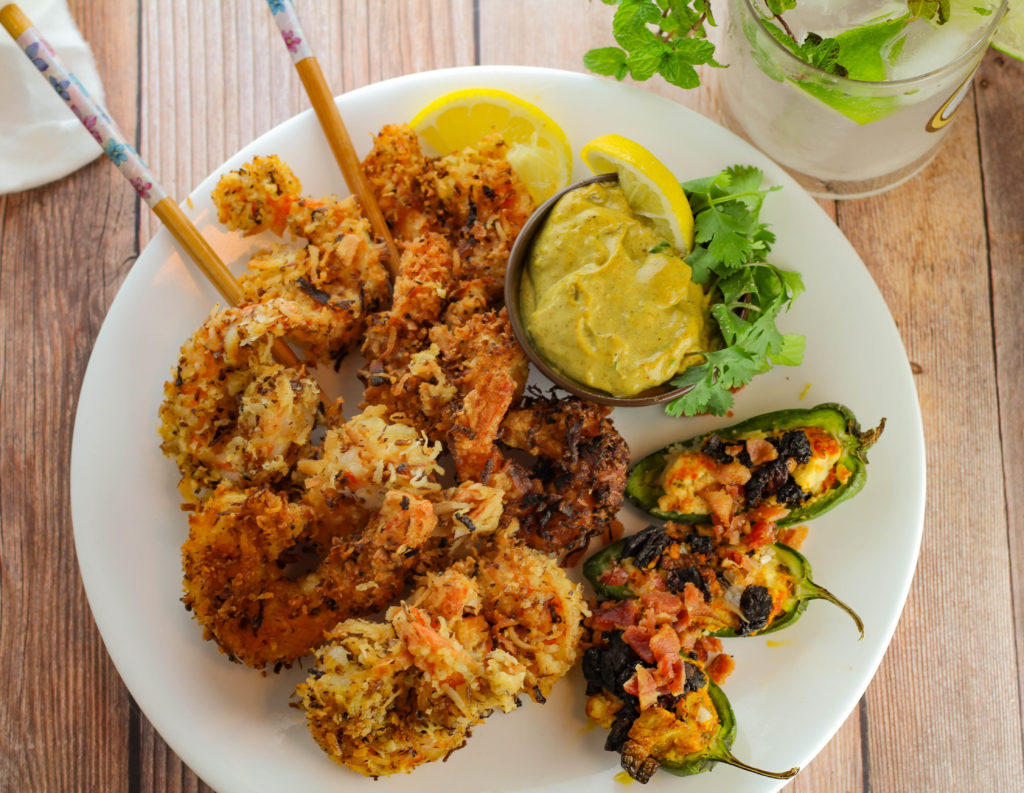 Easy to make Coconut Shrimp with an Avocado, Curry, Lime sauce and Jalapeno, Chevre cheese Poppers. With the exception of food I'm not much of a shopper. Take for instance clothing say a pair of shorts, first I find a store to visit with the intention to buy shorts, typically here in Maine it's Reny's. I walk in and go to the men's area where I find a rack of shorts, I'll look over several, choose one I like, check the size and then put them on over my existing clothing, why waste time in a dressing room.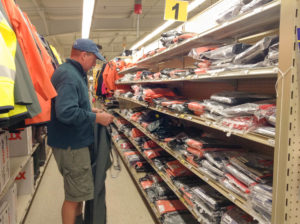 If they fit I then make my way to the register, pay and leave. Total time spent not including the drive or bike ride is less than 10 minutes. Now this is not to say that this is a good method, I end up returning about ¼ of what I purchase usually due to improper sizing or something wrong with the item such as its torn, missing a button or discolored.
When we made our way to Rockland last week to purchase clothing for my upcoming fishing foray Katie and Hoku were much more excited than me. I just wanted to get the stuff get out of the store and get on my bike for a ride around the area as it's one of my favorite cycling locals. However I did approach this shopping venture with more caution and interest than I typically devote to such an outing. This was mainly due to the fact that I would be spending the better part of four months wearing the choices I made as well as the fact that these items cost a small fortune.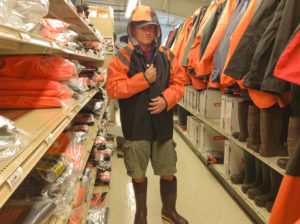 Over the past 8 years I've spent a substantial amount of time out on the water here in Maine. From running our charters aboard Makana to cooking on the schooner Mary Day to running races for the Camden Yacht Club. Most of my time on the water in Maine has been on Penobscot Bay which is one of the most productive lobster fisheries in the world. During peak season the bay and surrounding waters are packed with lobster traps and lobster-persons (more PC than lobstermen). One thing I've noticed over the years is that ALL the lobster-persons wear the same make of clothing in terms of overalls and jackets, Grundens.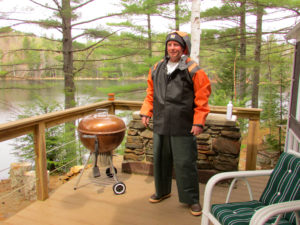 Carl Grunden, was born as the son of a fisherman in 1876 on the west coast of Sweden. Growing up around fishing he took a liking to clothing especially things that kept him warm and dry. In 1911 he began producing his own line of waterproof clothing in Grundsund, Sweden. With the exception of closing down for a few years during WW1 Grundens has been producing quality clothing for fisher-persons for generations. So for me the choice of clothing for Alaska was easy, Grundens!
I brought half dozen coconuts up from the Bahamas to Maine. Two days ago I split them open, this was no easy feat and requires over an hour of hard labor. After cracking the nut and drinking the milk I removed and shredded the sweet "meat" which I roasted it in the oven. I can eat the stuff by the handful, it's great, nothing like the packaged stuff found in stores. And with jumbo shrimp and avocados on sale yesterday I had the makings for the ideal combination. Throwing in fresh jalapenos, Chevre cheese and bacon upped the meal to perfection, enjoy!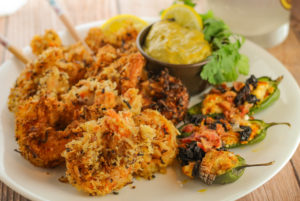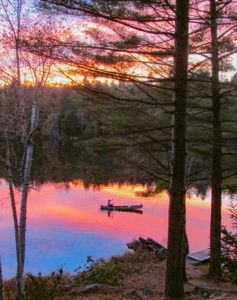 Yum

COCONUT SHRIMP
Prep time:
Cook time:
Total time:
Easy to make coconut shrimp
Ingredients
1 – 2 lbs jumbo shrimp shelled and deveined (leave the tail section on)
1 ½ cups roasted shredded coconut
1 cup flour
2 eggs beaten
2 -3 cups oil for frying (I like canola)
For the sauce
1 ripened avocado
2 Tbs mayonnaise (Duke's rules)
½ tsp curry powder
¼ lime
1 -2 drops Hickory Liquid Smoke
1 tsp sugar
¼ tsp each black and white pepper
¼ tsp garlic powder
For the poppers
4 large jalapeños
8 oz Chevre cheese
2 -3 strips cooked bacon
1 Tbs chopped sundried tomatoes
Instructions
To cook shrimp first dip in flour to cover, then dip into egg followed by the coconut and immediately fry in hot oil. Several can be cooked together for 2 – 3 minutes; don't overcook or you'll burn the coconut. Place cooked shrimp on a plate covered with paper towels to absorb excess oil.
For the sauce scoop out avocado from skin and mix in bowl with mayo until smooth then add spices and lime juice. To make the poppers cut jalapenos length wise in ½ and remove seeds (the seeds contain the highest % of capsicum in jalapenos). Mix Chevre cheese with sundried tomatoes and fill jalapenos, place on a baking dish and cook at 375 F for 5 – 9 minutes until cheese melts and peppers soften. Top with chopped bacon before serving, enjoy!