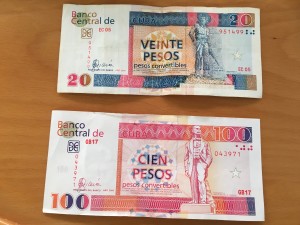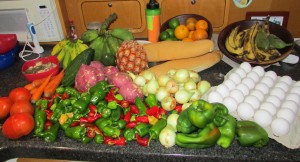 One of the first priorities after given the official OK to go ashore in Cuba was exchanging money. Fellow travelers who had been to Cuba advised us to use Canadian dollars to exchange so prior to departing George Town we exchanged $1500 US dollars for Canadian.
Everything we purchase in Cuba would need to be with Cuban cash. Credit cards and checks would be out as would access to ATM machines. And as we would discover with many things in Cuba what seems simple is often quite complex.
When the Soviet Union broke up in 1991 it resulted in unfavorable consequences to Cuba, no more $'s or food from their former communist friends. The Cuban government called the years following the breakup the "Special Period". I won't go into the details about the Special Period other than prior to those years the single currency used were CUP pesos (National coin pesos). Over the years pesos were tied to various currencies; the US dollar from 1881 to 1960 then to the Russian ruble then back to US dollars when Russia collapsed. In 1994 the Cuban government issued a new currency called the CUC peso (convertible peso) which would be on par with the US dollar with a rate of 25 CUP pesos to one CUC peso. In 2004 the Cuban government withdrew the US dollar in retaliation to the US embargo, history lesson over.
The friendly staff at the marina informed us that we would be able to convert money at the government run resort 10 km (remember we're in Cuba 10km = six miles) to the north, so off I went on my first Cuban bike ride. The exchange rate was close to one Canadian dollar to one CUC. CUC's are the only currency accepted for most major transactions such as buying gasoline, paying for a rental car and the marina fees. CUP's are used by most locals to buy fruits, veggies and many other supplies. Both currencies are called pesos which often caused confusion especially when mixed with the language barrier. Once I had CUC pesos in hand the next step was to go to a bank and exchange some CUC's for CUP's at the rate of 1 to 24. All the food purchased in the photo above was bought for under 5 CUC's.