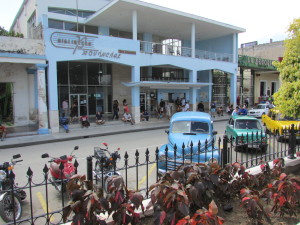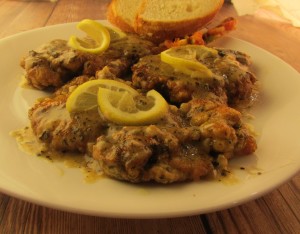 If you are a regular reader of this blog than you know I enjoy food. Reflecting back on our Cuban trip I'd have to say that the food in Cuba was a mixed bag. The fruits and veggies were great as was the freshly baked Cuban bread however the meals served at the restaurants and in the Casa Particulars we stayed in were in a polite way to put it bland.
Order chicken you get baked chicken ditto for pork and fish not even a trace of black pepper to season things. Interestingly beef was typically not available and I was surprised not to see more fish on menus. There were two unexpected pleasant culinary surprises we discovered in Cuba, pizza and ice cream. Cubans seem to love both as pizza huts and ice cream shops can be found in most towns. The pizzas were baked in homemade ovens which were comprised of anything from a steel drum to bricks. Most often the choice of toppings to the round 8 inch diameter pizzas were limited to cheese and sauce with a single slice costing 5 pesos ($0.20 US). Getting ice cream often required a significant time commitment. There would typically be a 10 to 15 minute line outside an ice cream shops door. This would often be followed by another 3 to 5 minute line to order and pay for the ice cream with a 10 minute line to get served. But the rewards were always well worth the wait as the fresh ice cream, strictly vanilla was great and the cost for a three scoop bowl, 3 pesos ($0.15 US).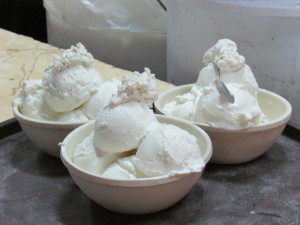 We began to wonder where and how most Cubans get their food. There were lots of stands alongside the roads where local farmers sold their fruits and veggies. And most towns had a baker which sold bread which was typically sold each morning then again after 4 pm.  Many homes outside of cities had chickens with many also displaying goats and a pig or two. The only stores which had any resemblance to those stateside were in the larger cities. We spent a day in Holguin which is the largest city in eastern Cuba and was located 30 or so miles to the west of the marina we were staying at in Puerto de Vita. In addition to watching a commercial jet take off from Holguin we visited the cities Provincial government store. The store was well stocked especially if you needed mayonnaise, tomato sauce, yogurt, rice, flour, soda, beer, rum and wine. It had a limited selection of frozen pork and chicken along with a "deli" counter where chorizo and ham were offered (an interesting observation was the frozen chicken labeled Tyson "Made in the USA"). It was by far the largest and modern "grocery" store we ended up visiting in Cuba.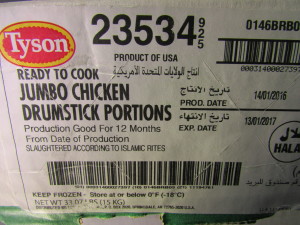 Yesterday afternoon Hoku made the request for us to cook one of her favorite recipes, Chicken Francaise. It's a relatively easy recipe to make, tastes delicious and we just so happened to have chicken in our freezer along with two lemons, enjoy.
Chicken Francaise
Prep time:
Cook time:
Total time:
Easy to make Chicken Francaise
Ingredients
2 – 3 lbs chicken (breasts are best but I've also used thighs with the skin and bone removed)
3 eggs
1 cup flour
4 Tbs butter
1 Tbs parsley
1 tsp salt
½ tsp each black and white pepper
½ - ¾ cup canola oil for frying
Sauce
4 Tbs butter
2 lemons
2 cloves chopped garlic
1 cup white wine
¼ cup Sherry
½ cup chicken stock
Instructions
Pound chicken meat out into thin fillets. in a small bowl mix together flour, parsley and spices. In a separate bowl beat eggs together and take ¼ of a lemon and squeeze into eggs mix well. Heat oil in skillet. To cook chicken coat in flour mixture shake off excess and dip into egg mixture. Let excess egg mixture drip off and cook in oil until golden brown. Cook all chicken and place pan in warm oven. Discard oil from skillet then add butter and garlic and cook until garlic is sautéed. Add chicken stock, wine, sherry and juice from lemons. Cook to reduce and mix well (to thicken add a Tbs or so of flour). Pour sauce over top of chicken and garnish with lemon slices, enjoy.