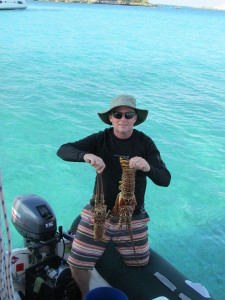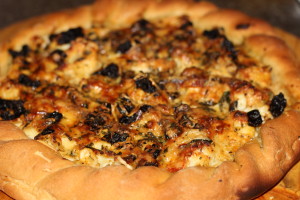 The winds for the past few days were from the south west, perfect for spearfishing on the reefs located on the sound side of the islands which are typically not user friendly due to the persistent easterly trade winds. However the low pressure system which brought us the fun with the derecho had been blocking the trades for several days. That low also was sending a swell which had been running for several days on the sound making the reefs "challenging" to access for spear fishing. The swell was down a bit so we decided to give the fishing a shot. Normally we anchor the dinghy while spear fishing, due to the swell this was out of the question. Our plan was Katie would remain in the dinghy outside the braking waves which were coming in sets with lulls in the action between sets. I would dive the reef and when I speared a fish or lobster she would drive in and pick me up between the waves. Our plan worked great I scored two lobsters and Katie drove perfectly preserving both our dinner and dinghy.
Caribbean Spiny Lobster (Panulirus argus) can grow quite large. As opposed to a Maine lobster they have no claws and to be honest the meat is not as "sweet" as its northern cousins but it's still damn good! I invited several friend boats over and made everyone lobster dip and Alfredo Lobster Pizzas. You can make the pizzas at home using any type lobster or crab meat, enjoy. Here is the recipe link to the Pizza Dough

LOBSTER PIZZA
Prep time:
Cook time:
Total time:
Lobster Alfredo Pizza
Ingredients
1 pizza crust (see BBQ Chicken Pizza for recipe)
1-2 lbs. lobster or crab meat
¼ cup heavy cream
¼ cup olive oil
1 cup grate parm. cheese
1 cup mozzarella or provolone cheese
2 Tbs. butter
1 garlic clove finely chopped
1 shallot finely chopped
¼ cup finely chopped onion
¼ tsp. each black and white pepper
1 Tbs. parsley flakes
1 Tbs. basil flakes
¼ tsp. salt
¼ cup dry sherry or marsala wine
2 drops liquid smoke
½ cup sun dried tomatoes chopped
Instructions
While crust is rising add olive oil to pan and heat at low temp. Add chopped garlic, shallot, onion, butter, herbs and spices. After veggies are caramelized mix in cream and grated Parmesan cheese while stirring to prevent cheese from burning. Once "creamy" add wine and liquid smoke and turn off heat while mixing.
Arrange the lobster or crab meat on the pizza dough then pour Alfredo sauce over the meat, cover with mozz. or Prov. cheese, sprinkle sun-dried onions and parsley flakes over top seasoning with a pinch of black and white peppers and a Tbs. of olive oil. Cook at 375 F until top is golden, white wine is a perfect addition, enjoy.