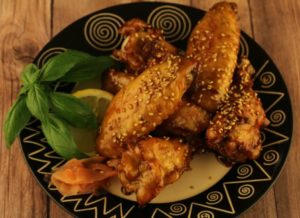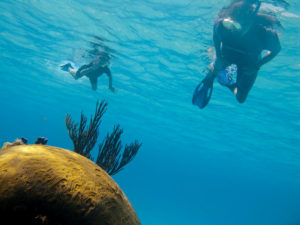 Maui style Chicken wings and Bahamas. If you are a regular reader of this blog than you already know that we spend 1/2 the year in the Bahamas aboard our catamaran Makana. While there I take lots of pictures and shoot video both above and below the sea. Often some of my best pictures end up on my blog however the video typically ends up remaining on the chip in the camera (here is a link to a few exceptions Rick's YouTube).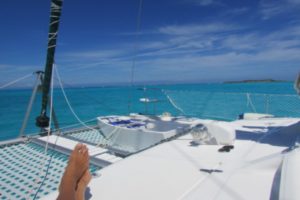 My initial intention when shooting is to make videos however they require a HUGE time commitment to edit which I easily put off in place of things such as fixing broken stuff on the boat, spearfishing, cooking  and writing this blog. So when a friend sent me a link to a cool Bahamian video which depicts one of our favorite areas to visit I felt compelled to share, enjoy! Staniel Cay Bahamas.
Chicken wings are one of my favorite foods to cook and last night that was exactly what I made. I enjoy experimenting with recipes and will try just about any combination however there are few which have become standard fare with Maui's Azeka's Ribs recipe being tops. So even though I posted this recipe in January with it being sooooo good I decided to re-post.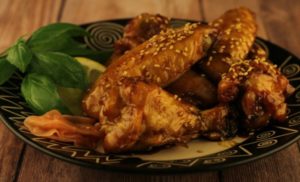 I bake the wings in the oven prior to starting the sauce. Then I try to time it so the sauce and wings are done cooking at the same time. The sauce is relatively easy to make, the key is in the mixing and heating. When the sauce is first being heated you can get away with stirring ever 30 – 45 seconds. It's important to heat gradually and when the temperature gets close to the caramelizing point you will need to constantly stir the sauce. Once you reach the caramelizing point the sauce can be turned off as it will remain hot for a while and is best to let slightly cool prior to coating the wings (use caution as the sauce will give you a nasty burn). Once the wings are done mix them in a bowl with the sauce and serve. Oh, by the way, the exact temperature of the caramelizing point is 320F, enjoy.

Maui Style Chicken Wings
Prep time:
Cook time:
Total time:
Easy to make Maui Style Chicken Wings based on Azeka's famous recipe.
Ingredients
o 12 – 14 Chicken wings
o 1 Cup Soy Sauce, (Kikkoman's is the best that's what they use in Hawaii)
o ⅔ Cup sugar
o ¼ Cups Brown Sugar light or dark
o 1 Tbs Molasses
o 1 Tbs Red Cider Vinegar
o 1 Tbs White Vinegar
o 1 Tbs Roasted sesame seeds
o 1 Tbs Sesame Oil
o 1 tsp Basil
o 1 Tbs Fresh Ginger Root or ¼ tsp dried
o 2 Cloves Fresh Garlic
Instructions
Prior to cooking wings I pat them dry with paper towels then place them in a plastic bag and shake with several Tbs of baking powder and 1 tsp salt. I bake the wings at 375 F on a rack in the oven with a cookie sheet below to catch drippings. I flip them after 15 - 20 min. and cook for an additional 15 -20 min. so both sides get nice and crispy then add the sauce.
In a sauce pan add sesame oil and garlic, heat, then add soy sauce, vinegar's, sugars and spices (don't use a frying pan and the sauce pan should be high enough to accommodate 3 times the level of the initial sauce). SLOWLY heat the mixture while stirring and monitoring the temperature. As you approach the caramelizing point the mixture will begin to bubble and foam up. Use caution to prevent the mixture from boiling over. Once the temperature is reached immediately turn off the heat and let it cool before coating wings then sprinkle wings with roasted sesame seeds.