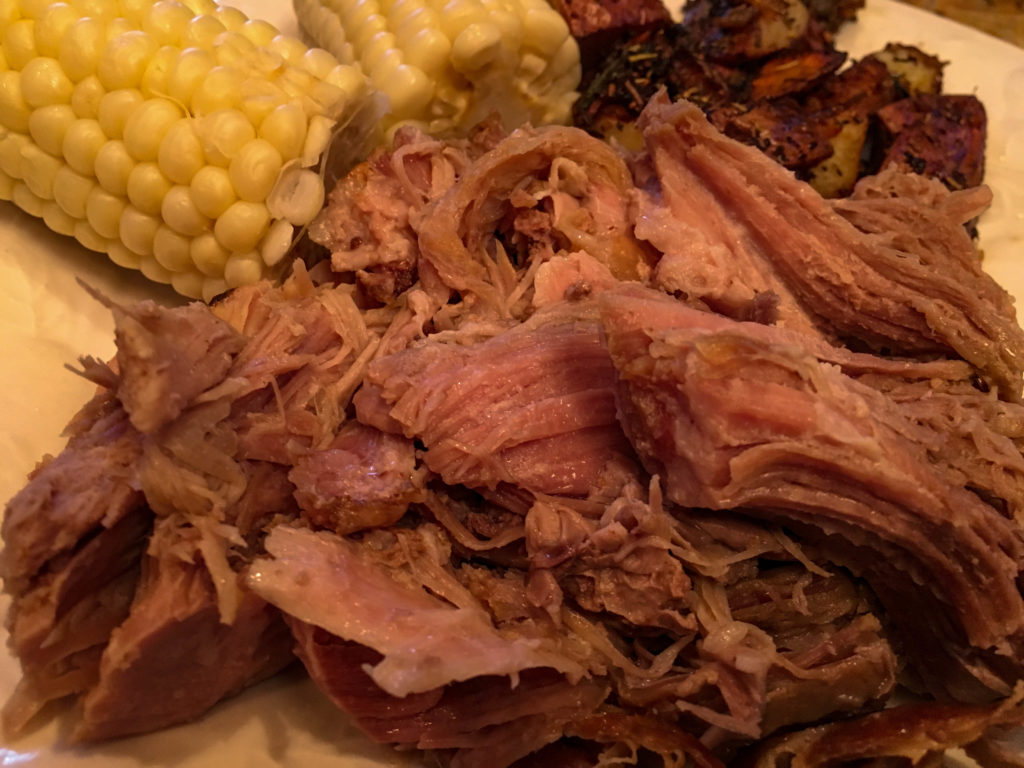 Easy to make 4 ingredient Maui Kalua Pulled Pork. Ten years living in Hawaii on the island of Maui was a wonderful experience. It was windsurfing which initially drew me to Maui however the people, climate, geography, food and lifestyle kept me there. I've visited 25+ countries in both hemispheres and have yet to find anywhere which can match the pleasant climate or the diversity of geography in such a short distance that Maui offers. Want to visit a coral reef, rain forest, alpine tundra, tropical beach and redwood forest in the same day then Maui is the place.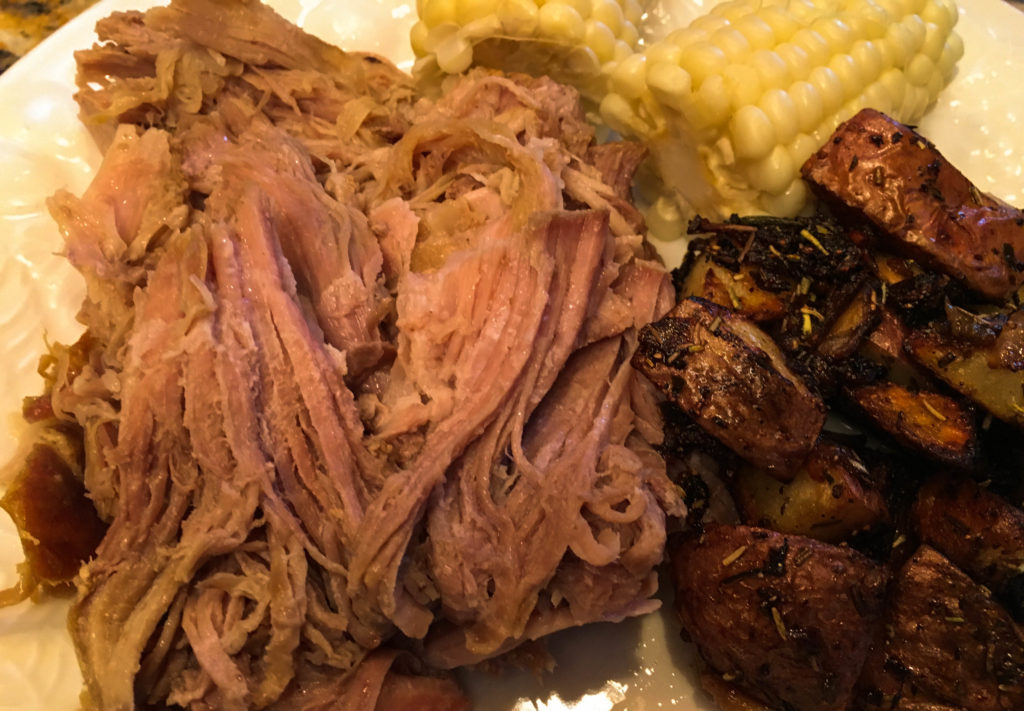 To fund our Maui lifestyle I worked as a high school teacher. My primary area of instruction was chemistry with algebra, general science and physics thrown in every so often. For the first six years I taught at St Anthony's Jr. & Sr. High School, the oldest high school west of the Mississippi. It was there that I was introduced to the "Spam Musubi". What exactly is a Spam Musubi you ask? Imagine a 1 inch thick slab of tightly packed white rice in the shape of a Spam filet, topped with a ¼ inch thick slice of Spam and wrapped around with a 1 ½ inch strip on Nori (dried seaweed). Up until that point I my experience with Spam was limited to Saturday Night Live and Monty Python skits. The cafeteria staff at St Anthony's would make fresh, warm Spam Musubis for mid-morning recess. Those things were delicious especially when served warm and fresh.
Due to health insurance issues associated with the birth of our daughter my last few years on Maui I taught chemistry at Baldwin High School. Unfortunately at Baldwin the kitchen crew didn't make Spam Musubi's however they more than made up for it with their family style "homemade" meals. From island style chicken to pork lau lau to my favorite Kalua pork, those women could cook!
Traditional Kulua pork is made in an imu, where an entire pig is cooked in a 5+ foot deep pit which utilizes hot rocks for heat, banana and ti leaves for flavor and steam for cooking. We had an imu in our yard at our house which we used to cook turkeys with each Easter and Thanksgiving. And they just so happened to have an imu at Baldwin which they used once a month to make Kulua pork. The process requires heating the rocks (not just any rocks, separate story), with a hardwood fueled fire for 4 – 5 hours then covering the rocks with banana stalks and leaves then laying the pig on top followed by more layers of banana and ti leaves. The entire pit is covered with a tarp which is sealed with dirt and left for 3 – 4 hours to cook. This cooking technique results in creating pork which has a wonderful texture and flavor, well worth the effort.
We don't have an imu on our boat and storing an entire pig is out of the question; however I've found a way to mimic the process. Although the resulting pork is not quite as good as using an entire pig and imu for cooking it's pretty darn close. In place of an entire pig I use a Boston Butt cut of pork. And for the imu I use a Pressure Cooker
with All Natural Hickory Liquid Smoke
  and coarse sea salt
for flavoring (a crock pot works just as well).
Yum

Maui Kalua Pulled Pork
Prep time:
Cook time:
Total time:
Easy to make four ingredient Kalua Pulled Pork
Ingredients
3 - 4 lbs Boston Butt
1 Tbs coarse sea salt
3 - 4 drops All Natural Hickory Liquid Smoke
½ cup water
Instructions
Add liquid smoke to water and rub over Boston Butt allowing excess to drip into cooking pot. Rub pork with the salt and place in pressure cooker or crock pot for cooking. Cover and cook for 3 - 4 hours in a pressure cooker or 6 - 8 hours in a crock pot until tender, meat will fall apart. Serve with your favorite side, corn and potatoes are nice, enjoy.