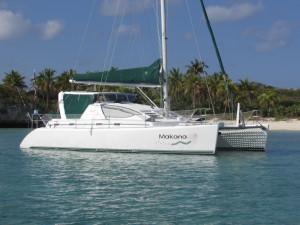 (November 2017 Update: we sold Makana last April and spent the summer living aboard a commercial salmon fishing tender in Prince William Sound Alaska. This winter we return to Colorado to spend the season in Pagosa Springs and Wolf Creek Ski Resort.)
Most folks live a conventional lifestyle keeping their feet firmly attached to terra-firma. And for most of my 50+ years on this planet I did just that. However the last 9 years I've spent more time with water under my feet than land. We set sail aboard our new catamaran Makana from Cape Town, South Africa in Aug. 2006. Since then we've visited over 25 countries in both hemispheres exploring unique cultures and geography while enjoying amazing culinary creations along the way. For the past 5 years we've been running charters aboard Makana spending summers in Maine and the winter in the Bahamas. Our annual commute between has given us the opportunity to visit many of the cities along the east coast from Miami to Charleston to New York to Boston we've experienced them all.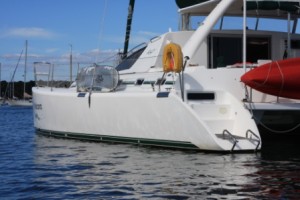 Makana is an Admiral Executive 38 built and launched in 2006 by Admiral Yachts of Cape Town, South Africa. What's the difference between a catamaran and a monohull and why did we choose a "cat"? Our initial search for a vessel to become our new home was directed towards monohulls as all of our sailing experience was on single hulled vessels. However this changed during the winter of 2005 when I taught a unit based on the vessel Hokule'a to my two sections of 9th grade science. The Hokule'a was and is a 61 foot long sailing catamaran built in 1975 by the Polynesian Voyaging Society to replicate an ancient sailing vessel. The vessel was built for educational purposes as well as to revive the ancient art of "wayfinding" and to prove the Pacific was settled by the Polynesians. The unit I taught was based on the Hokule'a sailing to the last point in the Polynesians triangle yet to be visited, Rapa Nui (Easter Island).
The trip was remarkable in several aspects; using the stars waves, wind and birds for navigation, sailing a catamaran into the predominate winds without the use of a motor and the speed at which the vessel traveled. After a successful voyage to Rapa Nui the Hokule'a returned to Hawaii for a statewide cruise to each island. While the Hokule'a was visiting Maui I took my two science classes for a class trip to tour the Hokule'a. After the visit and observing the vessel sail in the rough Hawaiian seas we began to research a catamaran as a viable option for us. The Polynesians had been sailing catamaran's for over two thousand years in the Pacific Basin with a resurgence in interest the last several decades. A trip to the Maimi boat show during the winter of 2005 confirmed our plans, our new home would be a catamaran. Why? Foremost for us is the amount of livable space on a catamaran which surpasses anything experienced on a monohull of similar length. Throw in the speed, stability and shallow draft of a catamaran compared to a monohull along with two engines for maneuverability and safety the decision became even easier. We took delivery of Makana summer of 2006 and have since sailed her from Africa to South America, Caribbean and as far north as Maine. 
FULL DISCLOSURE: In order to comply with the Federal Trade Commission (FTC) regulations I need to disclose the facts regarding the links listed above. First off I make absolutely nothing, nada, they are there to help the user have a more enjoyable and educational experience. In fact they actually are costing me $ and you'll also notice that there were no pop-ups during your visit and there never will be, cheers.
Rick
Save