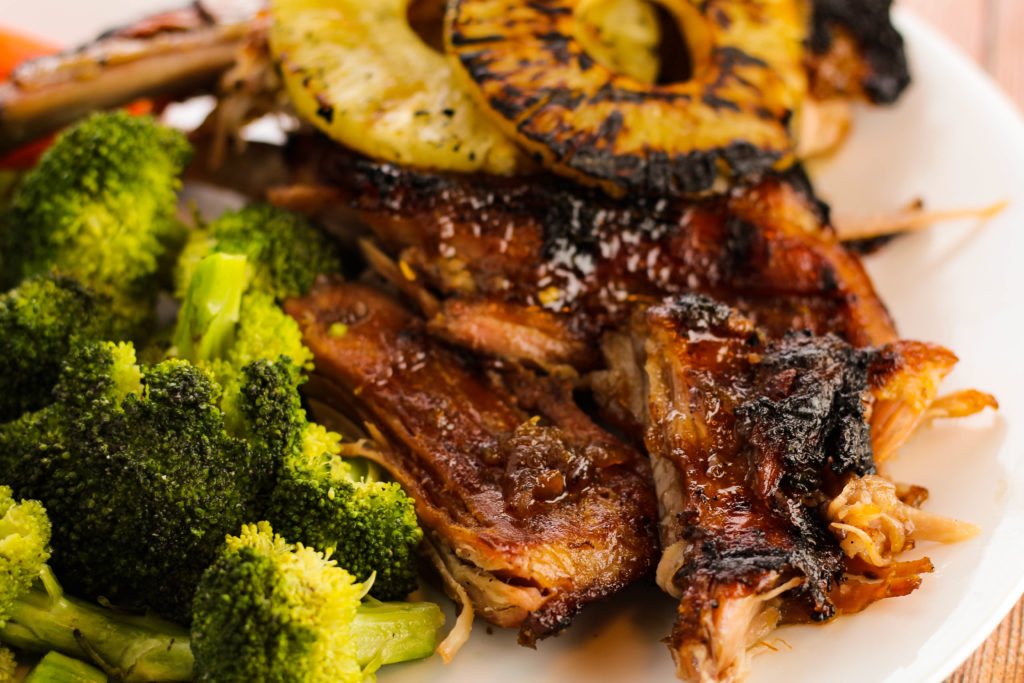 Easy to make Sweet Pineapple BBQ Ribs with roasted broccoli. The weather this past week here in Maine has been a sea saw of extremes. Hoku and I played a round of Frisbee golf last Friday in shorts and T-shirts, my bike ride the following day required full rain gear and yesterday I watched snowflakes fall as I enjoyed my morning coffee. Such is spring in Maine making it hard to envision that the days will start to get shorter in just over a month. However the forecast for the upcoming week is leaning for temperatures more summer like than winter which should be perfect for cycling, hiking and canoeing.
On Saturday I'll be departing the Vacation Land state and head to Alaska. The next four months I'll be working aboard the Aquanator which is a tender serving several salmon fishing boats in the Prince William Sound area. So tomorrow we are off to Camden and Rockport for a multipurpose trip. I need to buy "commercial fishing clothes" specifically Grundens bibs and jacket along with XtraTuff boots all of which can't be found in the mountains. Grudens are made in Sweden and the choice of clothing for just about every lobsterman (PC lobsterperson) in Maine. So I'm thinking that if they work in Maine they'll work in Alaska ditto for the XtraTuff boots. While at the coast we'll also pick up our mail in Camden (separate story) and visit friends.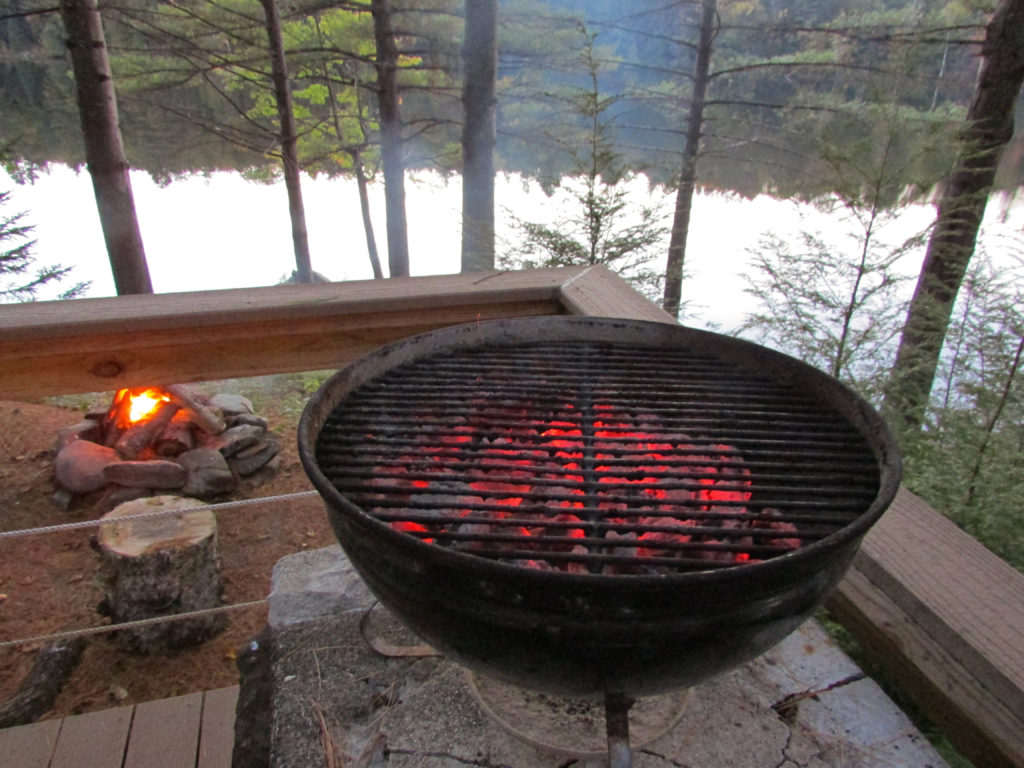 Aboard the Aquanator is a full kitchen however there is no BBQ grill. So this past week I've been on a BBQ frenzy and one of my favorite things to cook on the BBQ are ribs. This recipe is easy to make and results in the sweetest, fall off the bone ribs you'll ever experience. I like to combine the ribs with broccoli roasted on the grill. To cook the broccoli I make an aluminum foil "boat" which the broccoli is placed into and season with sea salt, pepper a splash of sherry or white wine, the "boat" is then sealed for cooking. This method is a great way to cook vegetables. When vegetables are cooked "naked" on the stove top or grilled most of the vitamins which are water soluble are lost. Sealing in the vegetables helps retain the vitamins which your body uses to catalyze reactions (another separate story).
Yum

Pineapple Sweet Ribs
Prep time:
Cook time:
Total time:
Easy to make Pineapple Sweet ribs
Ingredients
1 rack of spare or baby back pork ribs
1 large can of sliced pineapples
½ cup sugar
¼ cup brown sugar
1 Tbs molasses
2 Tbs butter
1 clove garlic
½ cup orange juice
½ tsp sesame oil
1 tsp soy sauce
¼ tsp each black and white pepper
Instructions
To cook the ribs they are steamed in a large pot, crock pot or wok, steam is much hotter than boiling water. First remove the membrane from the ribs then section into thirds and place in pot. Pour ⅔ of the pineapple juice and ¼ cup of the orange juice into the pot. Add a Tbs of sugar to ½ cup of water mix well then add to pot, cook covered at a high simmer for 2 – 3 hours until the meat is tender. For the sauce melt butter in pan, cook chopped garlic until tender then add the rest of the pineapple juice, orange juice, sesame oil, soy sauce and peppers followed by the sugars and molasses. Cook sauce until reduced to a thickened consistency. Carefully remove coked ribs (they'll easily fall off the bone) and coat with ⅔ of the sauce. Cook ribs on BBQ grill for several minutes on each side until golden. Remove and coat ribs with remaining sauce and serve immediately, enjoy!