What is the Simple Kitchen?
The past 9 years living aboard our boat has honed my cooking skills in more ways than I ever imagined. On our boat we have a minimum amount of storage space. There was no way all the assorted cooking tools I had accumulated over the years would fit into the three small cabinets designated for storage. Radical action would be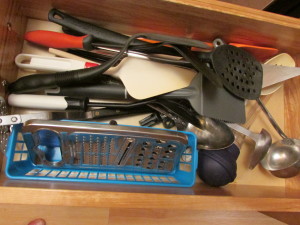 needed! Did I really need 12 knives, 4 frying pans, a bread maker and rack of cooking spoons?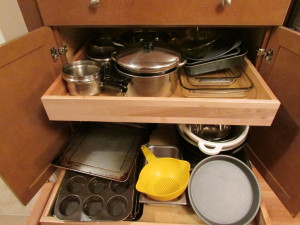 No, in fact most of the "stuff" in my land based kitchen rarely if ever gets used. I've developed a Simple List of basic cooking tools to use to make all the recipes I create and food I cook. Lets start with what I consider to be the primary tool any level of cook needs, a good knife (The Science of knives). Katie's mom always enjoyed my cooking from the Baked Ziti I made her when we first met to many years later the Peking Duck I hung above her fireplace to dry for 24 hours to later serve for our Christmas dinner. And it was her who gave me my first "real" cooking knife, I still have the same knife today attesting to it's quality. Its a 10 in. knife from Germany made by J.A. Henckels specifically the J.A. Henckels International Classic 10-Inch Chef's Knife
  This knife is amazing, it holds its sharp edge feels great in my hand and looks cool as well. And at around $65 its not ridiculously expensive. If you can only afford one knife the 10 in. Henckel is it, however I use two additional Henckel knives, a fillet knife and a pairing knife. The 7-Inch High Carbon Stainless-Steel Fillet knife
is perfect, as the name implies filleting and a Classic 4-inch Paring Knife
. I don't have a fancy wooden block with a dozen or so knives just these three along with a Fine Edge Pro 9-Inch Honing Steel
which for around $14 is well worth the cost to keep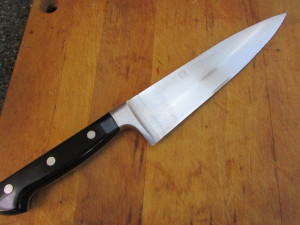 all the knives happy. If $65 is out of the budget you can a Henckel 3-pc Starter Knife Set
for around $30 but you should read the Knives, Steel and Science page before purchasing cheap knives.
After a knife the next useful tools are pots and pans. I use a 10 1/2 in. T-fal Professional Fry Pan
which runs around $27, T-Fal was the original company to use Teflon in pots and pans. Not the cheapest frying pan, however I've found the cheap, as in ten bucks, don't have a good handles which often become loose over time and have a minimal layer of Teflon (Teflon is the non-stick coating which was discovered by a chemist in 1938 by mistake).  I also have a basic aluminum cover for the fry pan which I've had for over nine years and I honestly can't remember where I got it. My second pot is a small Classic Sauce Pan
which runs around $30, again not the cheapest pan but well worth the $$. I have one single multi-functional large pot, actually it's a  6 quart T-fal Stainless Steel Pressure Cooker
. This magical pot is great for  boiling, stewing, steaming, pressure cooking, slow & fast cooking while using less energy than most cooking methods. I've used this pot for the past nine years and will need to replace the rubber seal this year. The last pot is actually not a pot but a 16 Inch Steel Cantonese Style Wok
. The key to this "pot", which is all steel, is that it needs to be properly seasoned and taken care of, ABSOLUTELY no soap or cleaners of any kind must be used to clean the wok. That's it for pots and pans. I also have a 18-Inch Long Wooden Stirring Paddle
$10, a Stainless Steel Ladle
$10, a  12″ Locking Kitchen Tongs
$10, a Boxed Cheese Grater
$12, a Pyrex 1-Cup Measuring Cup $6, Measuring Spoon Set
$5 and a Silicone Spatula
$10.
Besides wine and rum bottles the only glass allowed aboard Makana are the two Pyrex Baking Dishes
$18. Pyrex has been around for over 80 years and ALL the glassware in every Chemistry lab I've ever been in has been Pyrex. It's the only glassware able to withstand large temperature changes and very resistant to scratching. I also have a nesting set of  3 Stainless Steel Mixing Bowls
with lids $30 for three, 3 Non-Stick Cookie sheets $9 for three

and 3 Bread Baking Pans $8 each
.
I love pizzas so it should come as no surprise that my overall favorite cooking tool is my Pizza Stone
$47. Not only do I use it to create fantastic pizzas but it also helps regulate the temperature in my oven when baking. If you are going to follow this blog for recipes a pizza stone is an absolutely must have tool for the kitchen!
I've had the same cutting board for 10 years, I got it in New Zealand it's made out of Rimu wood and fits perfectly between the sink and stove which is precisely where a cutting board should be located. It's around 16 in. by 16 in. in size. I also keep a set of plastic Cutting Sheets  which I use to cut raw meats, fish or any type of food which may contain potentially harmful bacteria like salmonella, $8 for 5.
I never use the Rimu wood board for raw meats or fish.
That's about it for kitchen tools.
Full Disclosure: To comply with the Federal Trade Commission (FTC) I need to disclose that this page contains links which are affiliates and I make a 4% profit on any purchase (Of which the IRS, Visa and web site hosting will take a % leaving me with peanuts). I only list links to products which I feel are quality and useful. Clicking on and using the links will not increase or affect the cost of the goods, it only helps me maintain this site. I also don't solicit or send out unsolicited emails, however I will personally respond to email; rick"at"kitchenhui"dot"com.  I hope you noticed that there were no pop-up ad's I can't stand pop-up ad's that's why there are none on my site and there never will be, cheers
Rick
PS  I also don't store your data, add cookies or feel it's polite to track what others do online.
Save
Save
Save