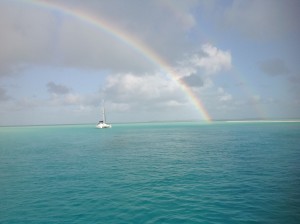 No recipe just a short story about life aboard our boat.
A derecho (/dəˈreɪtʃoʊ/, from Spanish: derecho [deˈɾetʃo], "straight") is a widespread, long-lived, straight-line wind storm that is associated with a land-based, fast-moving group of severe thunderstorms.[1]
Derechos can cause hurricane force winds, tornadoes, heavy rains, and flash floods. Convection-induced winds take on a bow echo (backward "C") form of squall line, forming in an area of wind divergence in upper levels of the troposphere, within a region of low-level warm air advection and rich low-level moisture. They travel quickly in the direction of movement of their associated storms, similar to an outflow boundary (gust front), except that the wind is sustained and increases in strength behind the front, generally exceeding hurricane-force. A warm-weather phenomenon, derechos occur mostly in summer, especially during June, July, and August in the Northern Hemisphere, within areas of moderately strong instability and moderately strong vertical wind shear. They may occur at any time of the year and occur as frequently at night as during the daylight hours.
On Wed. night we experienced our second derecho aboard Makana, our first was several years ago while on the hard in Georgetown MD, the one we experienced on Wed. was in the Exumas while on water, IMHO it's much better to experience these thing on land, we saw 60+ knots for over an hour with a local weather station topping out at 105. Thankfully our anchor held while almost every boat around us dragged, some ended up as a total loss with most boats sustaining some sort of damage.