Easy to make Yellow Curry Pizza.  We spent our last few weeks in the Exumas enjoying what the Exumas are famous for; gin clear water, wonderful reefs for snorkeling and deserted islands for exploring. Throw in beach bonfire dinners with friends while enjoying awesome sunsets made it a utopia. And with March being the only month of the year when it's legal to spear both lobster and Nassau grouper just added icing on the cake. However we were on our northward progression with a Florida destination lying over the horizon along with a time commitment which I'll discuss in another post. So when the trade winds were forecasted to turn southeast for several days providing the perfect opportunity to sail towards Florida we couldn't resist the "perfect" weather window.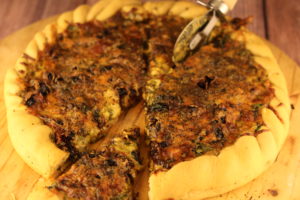 We departed from the Highborn Cay in the Exumas after sunrise raising the sails and pointed the bow west. For the following 34 hours we skirted a few thunderstorms, avoided a dozen or so cruise and container ships, crossed the Gulf Stream and pulled into Ft. Lauderdale dropping the anchor before sunset. After spending the winter in the Bahamas and Cuba it was a surreal experience to be transformed from the solitude of the islands to the hustle and bustle of "Lauderdale" in such a short time frame. Sure it wasn't short when compared to flying in a plane, however keep in mind that we were moving our "house".
For our last meal with cruising friends in the Bahamas I typically make a gourmet pizza using local ingredients. This year was no different as I had scored a few conch during that mornings spearfishing expedition. So what better way was there to use the fresh conch than combining it with yellow curry and using it on a pizza, none! Here is the LINK to my pizza dough recipe and if you've never used Thai basil check out this LINK , enjoy.

YELLOW CURRY PIZZA
Prep time:
Cook time:
Total time:
Easy to make Yellow Curry Pizza
Ingredients
Sauce
Substitute either 1 lbs of diced shrimp, chicken, scallops, clams or white fish for conch which will not be available in the states.
3 Tbs butter
¼ cup coconut milk
6 cloves finely chopped garlic
1 2-inch piece of fresh ginger or 1 tsp ground dried
1 chopped shallot
5-6 chopped dried Thai chili peppers or 1 Tbs dried chili powder
¼ cup chopped onion
1 tsp salt
1 tsp red pepper flakes
½ tsp each black and white pepper
2 Tbs turmeric
3 Tbs mild curry powder
1 Tbs basil
2 tsp ground coriander
1 stalk of chopped fresh lemongrass
Toppings
Substitute either 1 lbs of diced shrimp, chicken, scallops, clams or white fish for conch which will not be available in the states
½ cup chopped cilantro
1 lbs grated provolone or mozzarella cheese
1 cup sun dried tomatoes
1 pizza dough
Instructions
To make sauce for pizza place butter in a sauce or fry pan, add chopped garlic, shallot, onion, lemongrass salt and peppers cook until softened to caramelized; you may have to add a few Tbs of water or white wine. Add coconut milk, chili peppers, spices mix well over heat then mix really well using a food processor or blender. Spread sauce over pizza dough then cover with ½ of the grated cheese. Top pizza with chicken or seafood, sun dried tomatoes, cilantro and remaining cheese, I also sprinkle the top with dried basil and a little black pepper. Cook at 365F for 35 to 40 min. let cool for several min before serving, enjoy.