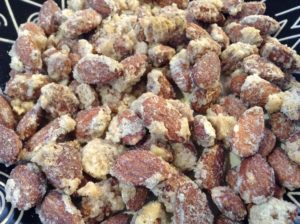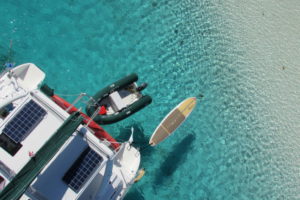 For the past ten years we've spent the majority of the time traveling and living aboard our boat Makana. Life aboard a boat offers a unique set of challenges especially when compared to one ashore. We generate, distribute and store all our electricity both AC and DC, we have 4 petroleum fueled engines aboard 2 solar panels, a wind generator and all our lights are LED's.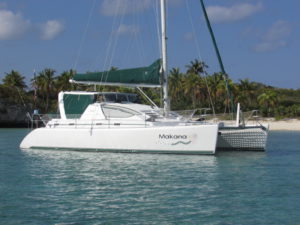 We also have a water maker aboard which transforms sea water into some of the purest water available. The galley (AKA kitchen) is very well appointed with a 3 burner stove, oven, double bowl stainless sink, refrigerator, freezer, microwave and a large expanse of Corian counter-top, off the stern is a BBQ grill. While these things are slightly different than those shore side they have nothing when compared to the social and geographical differences we've encountered between living on the sea vs. land.
Aboard a boat the weather dictates when, where, why and how we move or stay anchored. I spend at least an hour each day "on weather" from waking up at 6am to listen to a forecast on the SSB radio (ham radio) to reviewing numerous web sites to just looking at the clouds and barometer. Our movements also take into consideration the butter factor. Simply put we always try to be in a geographic location where the butter remains soft when left out on our galley's counter-top.
I could write an entire book on the social side of life aboard our boat. The sea seems to be an equalizer of sorts especially when traveling in remote areas with no access to shore side facilities. If your refrigerator or freezer breaks all your food will eventually either go bad or be given away whether you are on a 275 foot mega yacht with accompanying helicopter or 25 a foot runabout. And the 60+ knots of wind we had for almost an hour this past winter during a particular nasty storm was felt by all vessels for hundreds of miles (here is a link Staniel Cay Storm   for a short video a fellow boater shot before things got bad, you can see us for a few seconds around 24 seconds in).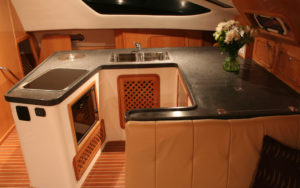 We often travel with other boats, from friends we've just met to several we've known for years. In addition to all the recreational activities we share we often rely on each other for assistance when things break or need "attention". And most night's dinners are very social, pot luck affairs with the menu often based on fresh treats from the sea. The main mode of communication we use to "talk" to other boats is the VHF radio. This in itself is interesting as everyone within VHF range will hear your conversation verse the privacy when using a cell phone.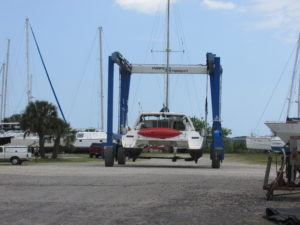 What's the point of all this? Yesterday afternoon we pulled Makana into the haul-out basin here in St Augustine, FL and shortly after were hoisted out of the water and placed on land. We are currently in the process of making the transformation from sea to land. It's really a change in lifestyles; our friendship circle tightens, we have way less to almost no potlucks, our cell phones become active, we seem to use water, electricity and paper towels unabated and we become part of the "rush". Normally during this time of year we would either be sailing up to spend summer in Maine or remaining in the Bahamas until the end of May (however this year our plans have changed, more on that in upcoming posts).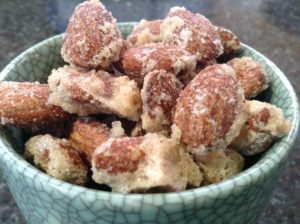 The past few days we've been getting Makana ready for summer storage. In doing so we discovered a stash of pecans and almonds in one of our lockers. Hoku immediately took command of our newfound treats and has been cooking up a storm with the nuts creating various sugar coated snacks. And being the social boat kid that she is she's been handing out sandwich bags full of her creations to most everyone she meets, with most recipients responding to her polite offerings with a smile, enjoy!
Pecans, Almonds & Posts
Easy to make Candied Nuts
Ingredients
1 lbs almonds or favorite nuts
1 Tbs water
1 cup sugar
1 egg white
¾ tsp salt
½ tsp ground cinnamon
½ tsp nutmeg
Butter for greasing
Instructions
Preheat oven to 250 F. Grease a baking sheet with butter. In a bowl whip egg white and water until frothy. In a separate bowl mix together sugar, salt, cinnamon and nutmeg. Add nuts to egg whites and mix well then drop nuts into sugar mixture until coated. Spread nuts on greased baking sheet and bake for 45 min. shifting nuts every 10 to 15 min. Once cooked spread nuts out on foil to cool, enjoy.