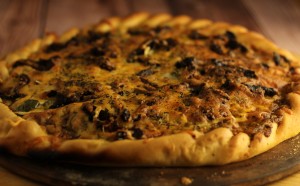 Anchovies, Jalapenos and Sun Dried Tomatoes Pizza. If my memory is correct I believe it was while I was attending grade school, specifically Mrs. Brown's third grade class. It was there I was ridiculed by the other students regarding the contents of my lunch box. In retrospect I probably would have been one of those doing the ridiculing had it not been me. What would make such a lasting impression that I can vividly recall the day 40+ years later?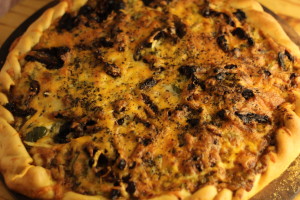 Sardines, more specifically, canned sardines in mustard sauce. Yup, I had small yellow fish which I had placed in my lunch box that morning. And even with the ridiculing I ate every one of the little buggers, bones and all. Believe it or not I actually wanted anchovies but my mother vetoed that idea. She knew that I'd probably eat an entire can resulting in me consuming a week's worth of salt in 10 minutes. Which brings me to the toppings on the pizza I made last night: anchovies, jalapeños and sun dried tomatoes.
My first encounter with this type of pizza was while I was living in Dillon, CO in the early 80's. In Dillon there was a small pizza restaurant which had an all you could eat night every Wednesday. At the time I was working summers doing construction to pay for college. On Wednesday evenings I, along with four friends who were also working construction, would partake in a feeding frenzy. Over the summer we became "regulars" at the pizza joint with the owner making just about any type pizza we could dream up. Being creative I came up with the idea of each person choosing one topping or sauce for the pizzas we ordered and so it was that anchovies, jalapenos, sun and dried tomatoes came to be.
Over the years I've experimented with various sauces for this pizza and have honed in on a fish based sauce. For the sauce's base I use the oil from the sardines along with chopped jalapenos, garlic and Thai fish sauce. I've successfully served this pizza to individuals who've expressed a dislike to anchovies, enjoy.
Yum

Here is a link to Pizza Dough

ANCHOVIE PIZZA
Prep time:
Cook time:
Total time:
Easy to make Anchovies, Jalapenos and Sun Dried Tomatoes Pizza
Ingredients
1- 2 cans anchovies (if you like em use em)
3 – 5 fresh jalapeno peppers (ditto for hotness)
1 cup sun dried tomatoes, black olives also go well with this pizza
3 cloves garlic
1 Tsp basil (Red or Thai is preferred but not necessary)
1 Tbs butter
¼ cup finely chopped onion
2 Tbs Thai fish sauce
3 Tbs olive oil
¼ tsp each black and white pepper and curry
1 Tbs Sriracha hot chili sauce (or your favorite hot sauce, no ketchup!)
1 Tbs grated Parmesan cheese
1 lbs. grated provolone or mozzarella cheese (or a ½ pound of each)
1 16 – 18 inch pizza dough
Instructions
Saute chopped garlic, onions and 1 jalapeno in oil form anchovies adding olive oil and butter. Then add fish sauce, spices and basil and bring to slight simmer adding Sriracha and parmesan cheese. Mix well and top pizza dough with sauce then evenly spread out ¾ of the cheese. Top cheese with sliced jalapenos, sun dried tomatoes and anchovies broken into ⅓ rd's then add rest of cheese. A sprinkling of basil or parsley over top prior to baking adds a nice touch. Bake at 375F for 30 – 35 min until golden.