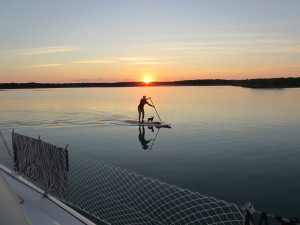 Vegetarian Broccoli Burritos are perfect for a easy, fast and healthy dinner.  Grocery shopping here in the Bahamas takes on a whole new meaning when compared to the states. In Nassau and the Abacos there are grocery stores very similar to those in the US, the major difference being the prices. Here in the Exumas where we spend the bulk of the season it's a different story. Geographically the Exumas run in a slightly curved line from Allen's Cay in the northern end to Great Exuma over 120 miles to the southeast (Allen's Cay is approximately 35 miles east of Nassau).
At the northern end of the Exumas there is a marina at Highbourne Cay which has a small relatively well stocked store however things are very expensive as in a dozen eggs costing over $12. Following the islands south the next "store",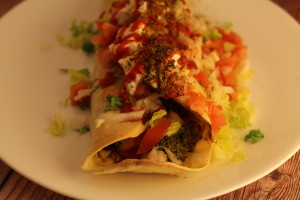 actually stores as there are three, can be found on Staniel Cay 40+ miles from Highbourne. Staniel Cay is home of the Thunderball Grotto where in addition to the James Bond film numerous others were shot. The area is also known for its swimming pigs that live on a nearby cay. The three stores on Staniel are very similar in the fact that they typically have limited selections. Canned goods are usually available and depending on if the mail boat paid a recent visit you may be treated to fresh romaine lettuce, oranges and grapefruit along with questionable assorted other produce. Ditto for the store located six miles to the south at Black Point on Great Guana Cay.
The last two grocery stores in the Exumas are located in Georgetown 60+ miles to the southeast of Staniel. These grocery stores are relatively well stocked with Exuma Markets resembling a mini state side grocery store. However, depending on when the last mail boat paid a visit there are days when even Exuma Markets produce section could use some attention. So when their shelves are full of fresh produce it's a real treat and often dictates what I'll be cooking for the next several days.
After my bike ride this past Thursday I went in Exuma Markets as the mail boat arrived the day prior. The produce selection was vast and in addition to scoring portobello mushrooms, tomatoes and broccoli the
cilantro looked and smelled great. My initial thoughts when I have a handful of fresh cilantro are something Asian, Mexican or one of my favorite pizza recipes BBQ Chicken, red onion and cilantro. Over the years I found that even when refrigerated with the ends in water cilantro has a limited lifespan.
When it's fresh I use cilantro in salads, guacamole, pizza and assorted Asian dishes. Once fresh cilantro begins to lose its luster I have a few fall back recipes. One of my favorites are burritos stuffed with chicken or tuna, broccoli, onions, olives and cilantro. I was first introduced to this type burrito in Ft. Collins, CO back in the mid 90's when I returned to my alma matter CSU for teacher certification. I honestly can't recall the name of the restaurant in Ft. Collins that served these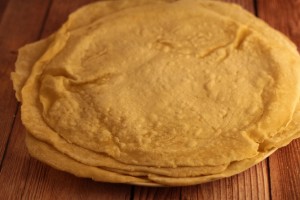 burritos, however, I've been making them for almost 20 years. The broccoli gives these burritos a texture similar to ground beef and when combined with the other ingredients make an awesome healthy burrito. I typically make my own tortillas and are well worth the extra effort, however, premade ones work as well, enjoy.
BURRITOS SANS BEEF
Prep time:
Cook time:
Total time:
Easy to make healthy Burritos
Ingredients
1 can tuna fish or chicken
1 head broccoli
1 can fat free re-fried beans (depending on your taste this is optional)
½ head of fresh cilantro
2 cloves garlic
½ onion chopped
½ cup black olives
1 lbs grated cheddar cheese
1-2 cups salsa
1 Tbs each basil and oregano
½ tsp paprika
¼ tsp each salt, black and white pepper
¼ tsp cayenne if you like em' hot
lettuce, tomatoes, onions, salsa, sour cream (can substitute fat free plain yogurt) and or guacamole for topping
Instructions
Finely chop garlic, add tuna or chicken, cilantro, herbs and spices and chop together mixing well. Evenly divide mixture among 4-5 tortillas (if using re-fried beans add beans prior to adding mixture). Add 4-5 small broccoli heads to each burrito along with evenly divided black olives and onions. Top burritos with cheese then 2 Tbs of salsa, add more spices if desired. Roll up the burritos. To keep the burritos from unrolling place a few butter knives on top for the first 5-7 min. of baking. Bake at 375F for 15 to 20 min. Serve topped with chopped veggies, salsa, sour cream or guac.
Yum