Easy to make Cottage Cheese and Dill Bread. Cooking on a boat has its challenges as well as rewards. On Makana our galley (AKA kitchen) is quite nice and was one of the factors in choosing our boat. There is a fairly large oven with two shelves, broiler and rotisserie along with a three burner stove top all fueled by propane. The counters are Corian, we have a two bowl stainless sink, microwave, front loading refrigerator and large top loading freezer. In the three cabinets below the counter top in addition to utensils, plates, bowls and cups you'll find three mixing bowls, pressure cooker, wok, fry pan and sauce pot. There is also a blender, salad spinner, grater, three bread pans, two cookie sheets, two baking dishes, French coffee press and most importantly a pizza stone with serving board. Out on the transom (back of the boat) there is a nice stainless BBQ grill.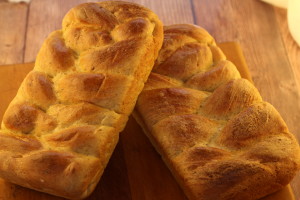 On Carpe Diem, our first boat in Maui, we had a single burner "stove" which was fueled by a small disposable propane bottle along with a small folding table for a counter, which makes cooking on Makana luxurious when compared to Carpe Diem. During the summer of 2013 I spent slightly over two months cooking on the schooner Mary Day. The schooner was based out of Camden, Maine and sailed on 5 to 7 day charters with 30+ guests and a crew of 6. The Mary Day had a galley which was equipped somewhere between Makana's and Carpe Diem's. There was a wood burning cast iron stove for cooking, a large ice fed "refrigerator" and ½ the counter space of Makana's.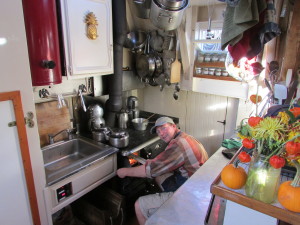 Over the course of my time aboard I served close to 5,500 meals with most everything being homemade. It was during that time when I was introduced to one of a former chef's cook book Ring that Bell. I made over a dozen of the recipes from Ring that Bell and have several favorites, one of them being the Cottage Cheese & Dill Bread. It's an easy to make bread that tastes great with a unique use of cottage cheese, enjoy.
COTTAGE CHEESE & DILL BREAD
Prep time:
Cook time:
Total time:
Easy to make Cottage Cheese Bread
Ingredients
1 ½ Tbs active dry yeast
1 cup cottage cheese
1 ½ cups warm water
2 Tbs butter
2 Tbs dill
1 Tbs sugar
2 eggs
½ tsp salt
3 or so cups flour
Instructions
Activate yeast in ½ cup warm water with a pinch of sugar. Heat cottage cheese and butter, add sugar, dill, salt and 1 beaten egg. Remove from heat and let cool slightly then add yeast. Mix in flour one cup at a time and knead for 10 min. Let rise until doubled in a bowl lined with Pam, butter or oil and cover with a towel. After doubling punch down the dough and divide in two. Roll out two loaves placing them in greased bread pans. Let dough double then bake at 375F for 35 min or until internal temperature is 180F (¾ of the way thru baking brush the tops of the loaves with egg whites for a golden top).