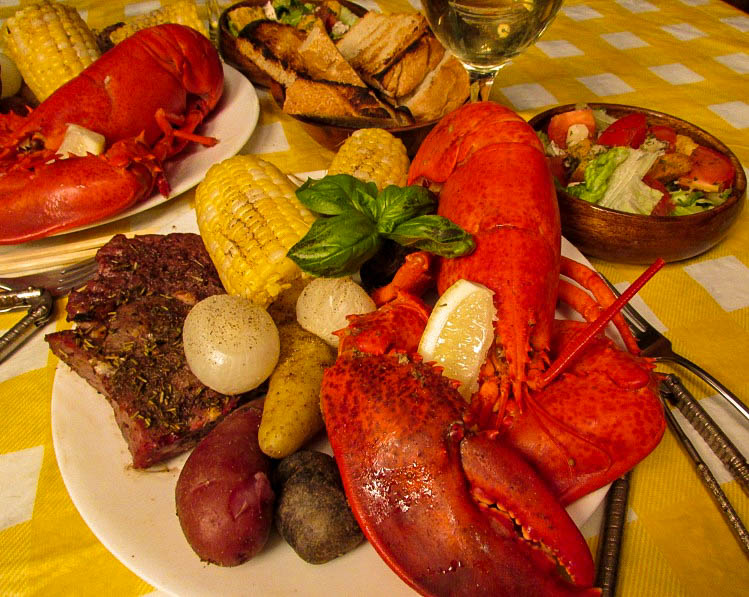 Yum
Easy to make Lobster Bake. Yesterday was my first full day in the 49th state. The weather was fantastic, sunny 70 degrees perfect for a hike. So after a quick shopping trip to pick-up a sleeping bag, a sheet, a pillow and towel I made my way to the base of Flattop Mt. The mile and half hike up was a great way to stretch my legs after the long plane ride. And in addition to the awesome view from the summit I got to watch a fellow leap off a cliff, fortunately he was attached to a paraglider. Tomorrow I'll be off to Seward to get my first look at the fishing boat I'll be on for the next four months.
The beginning of May I was in Maine for 2 weeks. In addition to going on some great bike rides I made one of my favorite "Maine" meals, lobster. Not just lobster but a full-on Maine style Lobster Bake complete with veggies and steak. During the summer of 2013 I was the cook aboard the schooner Mary Day which sailed out of Camden with 30+ guests on 5 to 7 day charters. One of the many highlights the guests experienced was an island lobster bake. While I had been steaming lobsters for several decades it was captain Barry King who introduced me to the idea of adding corn, potatoes and onions.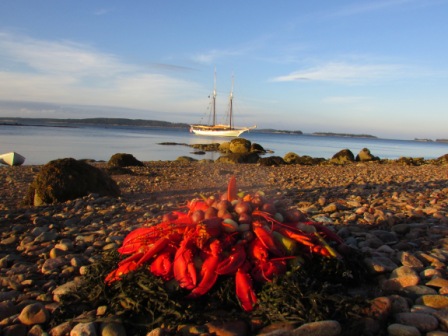 While you may not have access to Maine seaweed which we used as a "lid" for cooking lobsters on the Mary Day you can use a large pot with a regular lid and get good results, enjoy!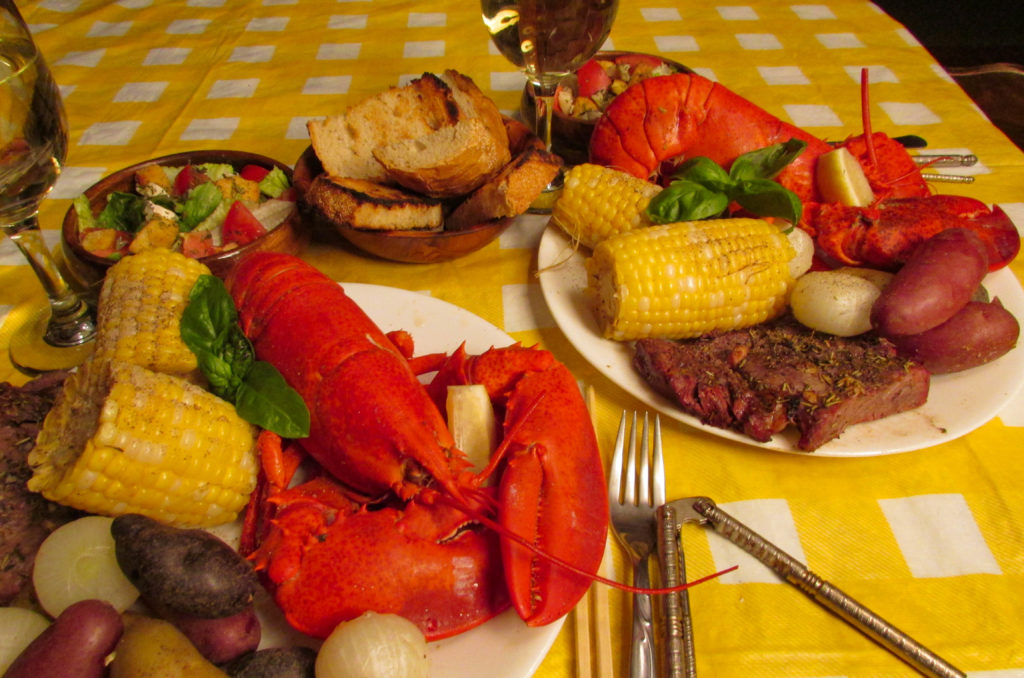 MAINE LOBSTER BAKE
Prep time:
Cook time:
Total time:
Easy to make Lobster Bake
Ingredients
2 - 4 1½ to 2 lbs. Maine Lobsters
2 ears Maine Corn Cobs
2 pounds of assorted small Potatoes
1- 2 lbs Rib Eye Steak
6 small White onions
1 Can Beer
1 Garlic clove finely chopped
3- 4 Bay Leaves
1 tablespoon Fresh Basil chopped
1 tsp Old Bay seasoning
Salt and Pepper
1 loaf Sourdough Bread or a baguette
Romaine Salad
½ pound butter
1 lemon
Instructions
Start grilling Steaks prior to steaming lobsters. After carefully removing the rubber bands on their claws place lobsters in a large pot (yes, they bite!). Next add corn cut into 3-4 inch lengths (leave the husks), potatoes, onions, garlic, and basil. Pour entire can of beer into pot, season with salt & pepper, bay leaves and Old Bay. Cover and steam for 12 to 16 min. Melt butter for dipping lobster meat and bread, toast the bread.
Remove lobsters then top with veggies, slide on the steak, lemon wedges and serve with toasted Sourdough Bread and Fresh Romaine Salad, don't skimp on the melted butter, enjoy!